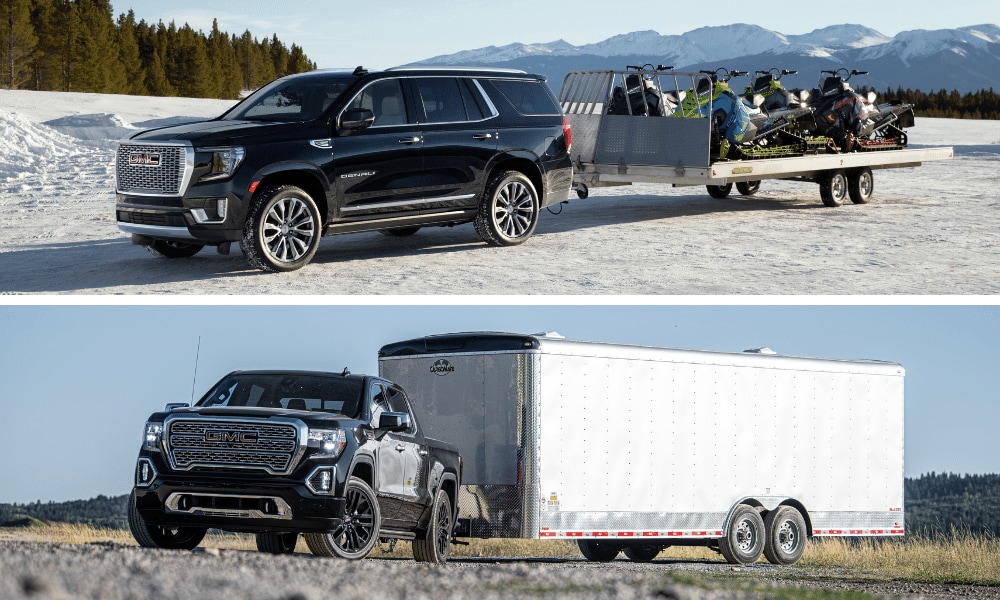 In the old days, if you were looking for a vehicle to tow big loads, your options were limited to pickup trucks. But welcome to the future -- today, GMC offers an entire lineup of fully capable and stylish trucks
and
SUVs. You can find the entire lineup of best-selling GMC vehicles at Woody Folsom Chevrolet Buick GMC in Baxley, Georgia. 
Our experienced team of sales professionals will carefully listen to your needs and guide you to the best GMC truck or SUV. In the meantime, we've created a quick, easy-to-read to highlight the towing and trailering capability of GMC trucks and SUVs.

Key Towing and Trailering Terms
Before we dive into actual trailing and towing capacities of GMC trucks and SUVs, it's important to make sure we're speaking the same language. Here are a few common, but important terms you should know:
Gross Combined Vehicle Weight (GCVW) is the maximum combined weight of your loaded GMC SUV or Sierra and trailer.
Curb Weight - also known as the vehicle weight - is the weight of your empty vehicle with standard fuel, equipment, oil, and coolant. Curb Weight doesn't include the weight of the driver.
Gross Vehicle Weight is the total weight of the entire SUV or truck and all of the contents, including cargo, fuel and occupants.
Axle Ratio is the relationship between the tires revolutions and the driveshaft revolutions.
Gross Trailer Weight is the total weight of the trailer when it's loaded.
Trailer Tongue Weight is the weight placed on the trailer tongue to help it stay balanced and provide a safer experience.
Maximum Trailering Capabilities for GMC Trucks and SUVs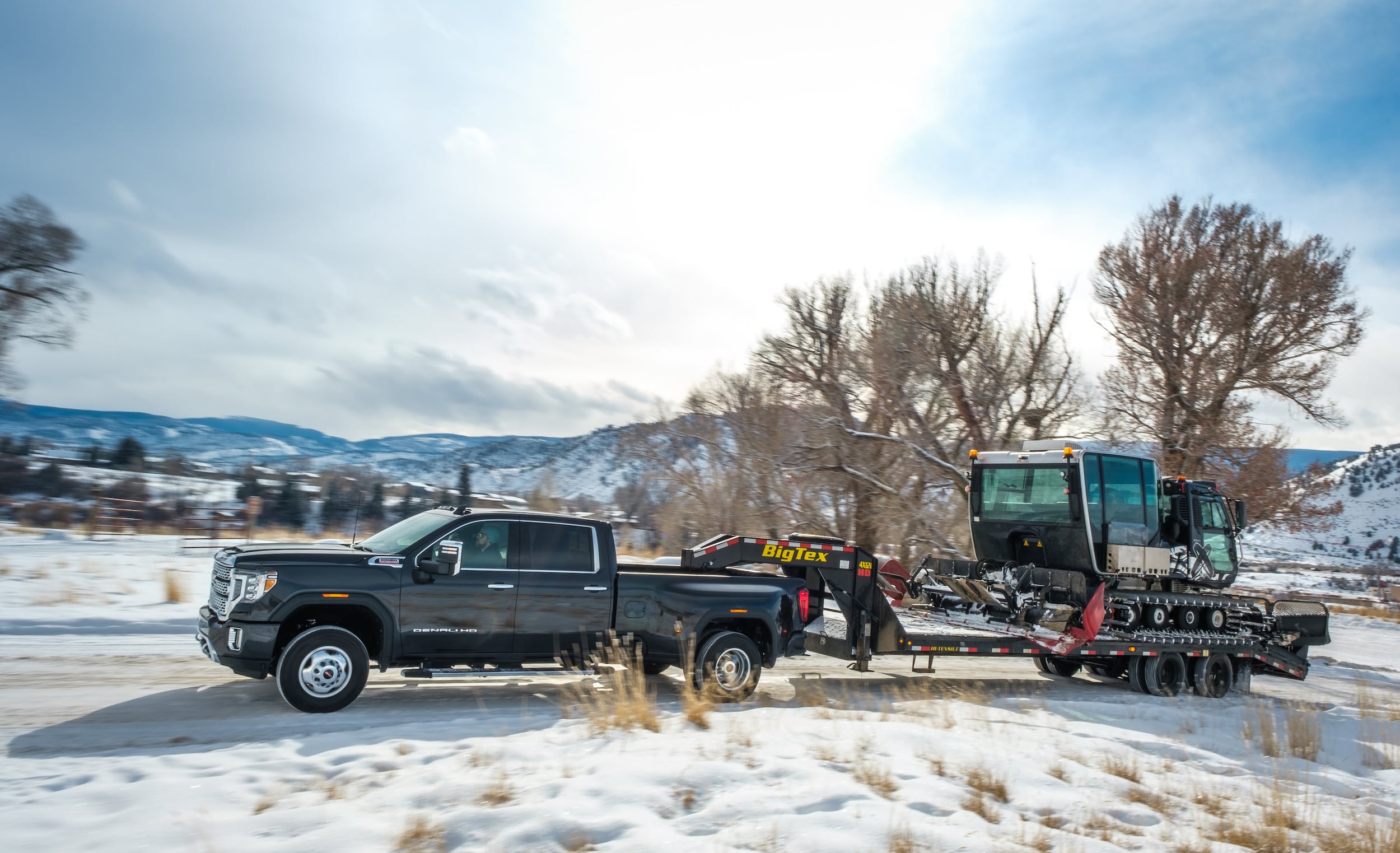 Whether it's the transmission, torque, or payload, finding the best GMC SUV or truck begins with having a clear understanding of your needs and what you're looking for. And one of the most important considerations is a vehicle's maximum trailering capabilities. The following information offers insight into the number of pounds that you can safely and confidently trailer when your GMC is equipped properly.
| | |
| --- | --- |
| GMC SUVs  | GMC Trucks |
| Terrain/ Terrain Denali: 3,500 lbs | Canyon/Canyon Denali: 7,700 lbs |
| Acadia/ Acadia Denali: 4,000 lbs | Sierra 1500 Limited: 9,400 lbs |
| Yukon XL Denali: 8,100 lbs | Sierra 1500 Denali: 9,600 lbs |
| Yukon XL: 8,300 lbs | Sierra 1500: 12,200 lbs |
| Yukon Denali: 8,400 lbs | Sierra HD/ Sierra Denali HD: 23,100 lbs |
| Yukon: 8,500 lbs |   |
Get to Know Your GMC Sierra or SUV's Advanced Trailering Equipment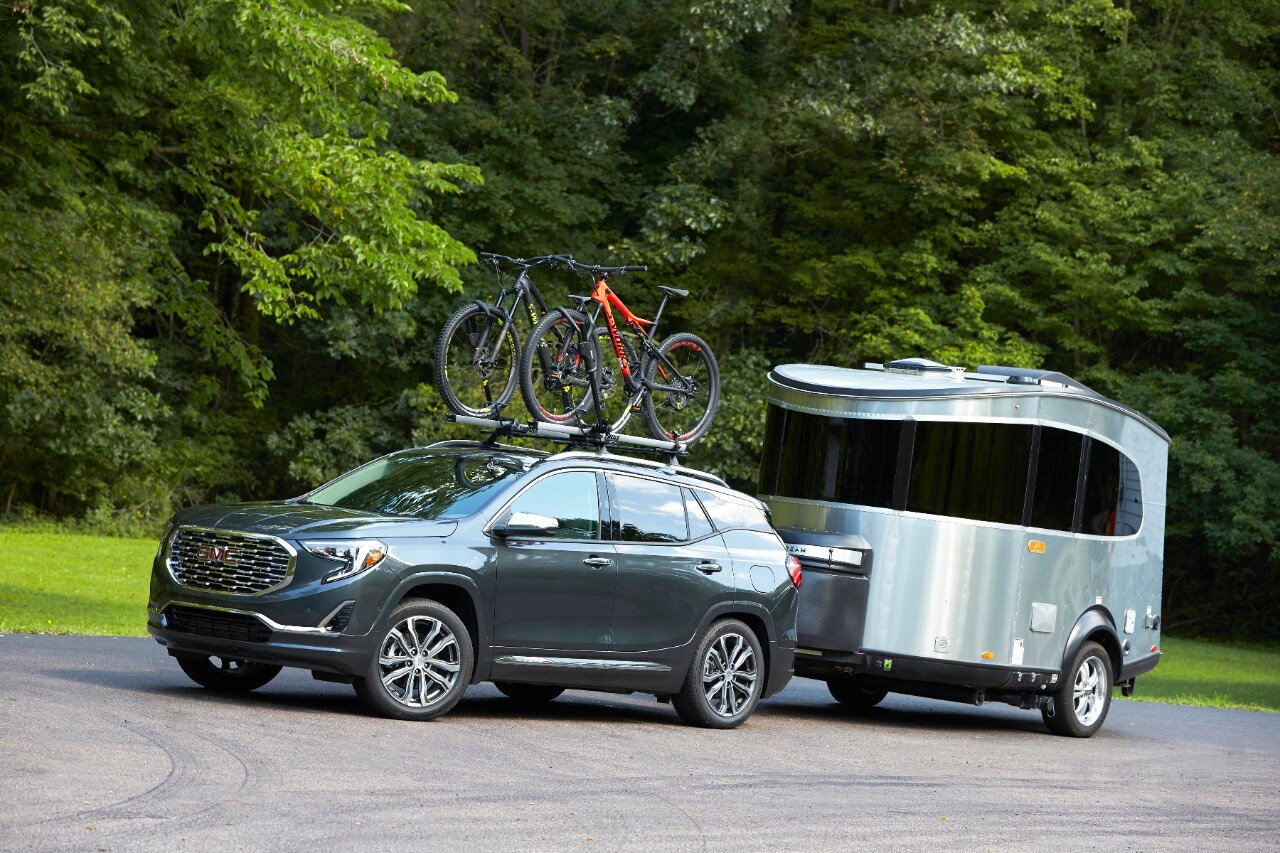 Every GMC vehicle boasts a range of standard and optional equipment designed to help bolster your trailering performance. Here are a few of the most common steps and features you can equip your truck or SUV with to achieve the best performance:
Your ability to choose the right hitch and make the right electrical connections will have a direct effect on how your vehicle brakes, corners and handles. Prior to choosing a trailering package or hitch, make sure you're familiar with your vehicle.
Consider a hitch that carries weight with a ball mounted on a draw bar or step bumper. You can typically find hitch balls in a plethora of sizes, but you should ensure it matches your trailer coupler.
If you're going to be towing heavier loads, consider a weight-distributing hitch. This type of hitch works to evenly distribute the trailer weight for safer performance.
A gooseneck and fifth-wheel hitch are engineered for heavy-duty trailering for horse trailers, travel trailers, and other large trailers.
The trailering package comes standard on Yukons, Sierras, Canyons, and is available on an array of other models. The package includes a trailer hitch platform and may feature other trailering equipment.
The wiring harness empowers you to connect the electrical components of your trailer - such as brake lights and signal lights - to your vehicle. Every Yukon vehicle includes a 7-pin wiring harness to make hookup as simple as possible. Sierra models can be equipped with a seven-pin/four-pin harness.
Contact Woody Folsom Chevrolet Buick GMC for Towing & Trailering Assistance
Unless you're an experienced towing or trailering pro, choosing the best vehicle can be confusing. However, you're not alone! The experts at Woody Folsom Chevrolet Buick GMC can help. We'll listen to your unique needs and guide you to the best vehicle and trailering equipment. 
Contact Woody Folsom Chevrolet Buick GMC today for towing and trailering assistance.