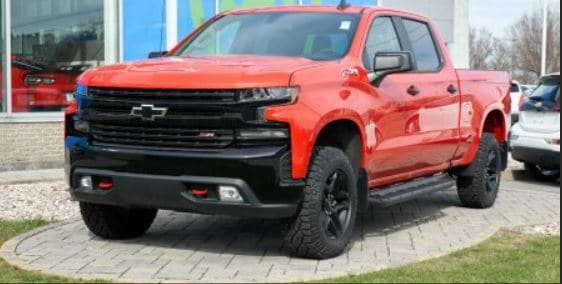 The Silverado is known throughout America to be one of the most reliable, sturdy pickups in its class. Over the years, Chevrolet has built this truck a reputation that makes it a go-to buy for anyone seeking something rugged yet beautiful. Each year, the Silverado model brings a wide variety of perks to the table. What makes the 2020 model different? What sets this truck apart from others in its class? Well, if you're looking for a dependable, high-functioning truck that ticks all the boxes for drivability, the 2020 Chevy Silverado is here to meet your needs.  
A Step Up
  With its 2019 model, the Silverado was able to revamp most of its features. Drivability was increased, and so was cargo capacity, along with most infotainment and amenities. That's why 2020 had to make a few more changes in order to impress. A few engine upgrades and towing capacity increases later, and you have the 2020 Silverado. This model has some important improvements, including adaptive cruise control and increased towing capacity. But its new engines really push it forward into something special. A 6.2-liter V-8 engine is now available for more trims, as opposed to its limited array last year. A 3.0-liter turbo-diesel incline-six engine is also at your disposal. You'll also be treated to an optional 10-speed transmission for each trim.  
Plenty of Packages
  The 2020 Silverado has a ton of performance and appearance packages available to suit your needs. Whether you're preparing for snowy seasons or intending to tow heavy loads, the performance packages can't be beat. For example, if you've got a snowplow, the Snow Plow Prep Package offers heavy-duty front springs, a 220-amp alternator, skid plates, and more. An Advanced Trailering Package will get you an advanced trailering system, with trailer tire pressure and temperature monitoring systems. There's the Z71 Off-road Package for those who want to venture into the wild. A Work Truck Package for Silverado drivers seeking a fully functional work truck. Contact Woody Folsom Automotive for full details on these packages.   If it's an improved appearance you're after, the appearance packages are great solutions. Adjust truck beds, wheels, bumpers, and more. You can explore your options more fully when you ask a Woody Folsom representative!  
The Verdict
  The 2020 Chevy Silverado is a fantastic work truck, but also functions as a personal vehicle just as well. It is incredibly customizable, giving you full control over what kind of truck you'd like to operate. Rest assured, your ride will be dependable and reliable for years to come. The Silverado legacy continues with the 2020 model.  
Woody Folsom Chevrolet Buick GMC is here to help you find your ideal 2020 Chevy Silverado in Baxley, GA!
  Here at Woody Folsom, we believe in giving our customers the whole package. With financial assistance, an extensive service center, and incredible customer service, we can help you find the work truck of your dreams. Let us know if you're ready to take the plunge on a 2020 Chevy Silverado. Talk to me!